Support us
Change the lives of children in Slovakia.
In Návrat, we dedicate all our energy to ensuring that children grow up in families and benefit from long-term relationships based on love, acceptance and security. We look for tailor-made solutions for the families and children in need, but also seek to improve the system as such. We engage in activities that bring abandoned and endangered children a real and long-term change in quality of life, which strongly improves their chances for a successful future.
By becoming our regular donor, you participate in helping specific children and families, as well as contribute to introducing systemic solutions to the conditions of children in Slovakia. Thanks to you, families get the professional help they need and we are able to pursue this mission.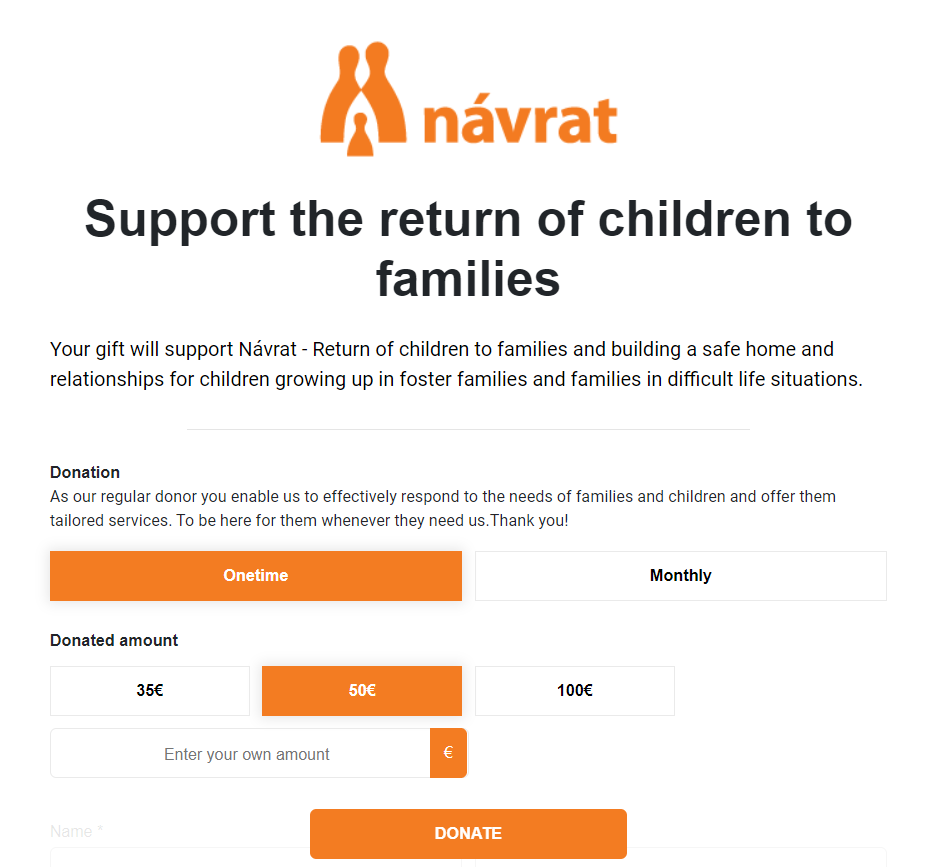 Would you like to become our partner?

"Relationships are a key element of our work. They are what we strive to provide to abandoned children on daily basis. Building relationships is not only a working tool but what we ultimately pursue in Návrat. While a relationship is what we offer, we also need the same from our supporters and partners in order to fulfil our mission.

In relation to our partners, we greatly value openness and an individual approach. We are fully aware of the needs of the business sector in the field of corporate responsibility and we respect the uniqueness of our partners. The partnerships we create are the result of cooperation and understanding the marketing and communication strategy of the partner. We believe that the success comes when we find mutual benefits and see the points of fusion in our visions and goals."

Návrat currently cooperates on many projects with our long-term partners Orange Foundation, Rajo, and other organizations, foundations and media partners. We greatly appreciate the possibility to further develop these partnerships and make steps to involve general public.

We are always looking for new partners: organizations, companies, expert volunteers or the media who would like to support our project and be part of our story.

If you are interested in further information on the possibilities of partnership, feel free to contact us. You are welcome to discuss the possibilities of cooperation.

We are looking forward to our future cooperation."


Marek Roháček
President of the association
Contact us: trvaly@navrat.sk